October 29th, 2016
Chenghao Sun Is Awarded the GCCCD® Best Poster Award (1st Prize
The 28th annual conference of the Gesellschaft Chinesischer Chemiker und Chemieingenieure in der Bundesrepublik Deutschland e.V. (GCCCD®) was held from October 28th to 29th, 2016 in Munich with the theme Chemistry and Chemical Engineering for Sustainable Development. More than 150 scientists, engineers and company representatives participated in this annual conference. Mr. Chenghao Sun won the GCCCD® Best Poster Award (1st Prize) with GtL process integration and intensification in microchannel reactors.
August 25th, 2016
Adsorption Device Based on a Langtate Crystal Microbalance for High Temperature High Pressure Gas Adsorption in Zeolite H-ZSM-5
Juli 1st, 2016
Tim Böltken Is Presented the Peter-und-Luise Hager Award 2016
During the course of the KIT Department of Chemical and Process Engineering's faculty celebration on July 1st, 2016, the 3,000€-endowed Peter-und-Luise Hager Award for Energy and Environmental Technology was presented for the first time. Dr.-Ing. Tim Böltken received the price for his extraordinary dissertation about the development of a new modular reactor system with integrated membranes for the decentral production of hydrogen from methane written at the IMVT.
Dr. Böltken finished his dissertation in 2015. From 2014 to 2015, he was a project leader in the BASF subsidiary hte – the high throughput experimentation company. Since 2015, he is founder and CEO of the INERATEC GmbH, a KIT spin-off in the business of innovative and compact chemical reactors for the decentral production of liquid and solid carbon hydrates from fossile and renewable gases.
January 26th, 2016
DFG Research Group ProMiSe Started
The DFG research group 2838 ProMiSe focuses on the Assessing and Controlling Dynamic Local Process Conditions in Microreactors via Novel Integrated Microsensors. The group consists of researches from the Karlsruhe Institute of Technology and the University of Freiburg. In the course of four cross-location subprojects the scientists develop electronical and optical microsensors and measuring techniques to understand chemical and physical processes in micostructured apparatuses better and to improve the cost and energy efficiency of the latter. The main spokesperson of the group is Prof. Dr.-Ing. Roland Dittmeyer (IMVT, KIT) while the deputy spokesperson is Prof. Dr.-Ing. Peter Woias (IMTEK, University of Freiburg).
May 9th, 2015
Chinese Government Award for Outstanding Self-financed Student Award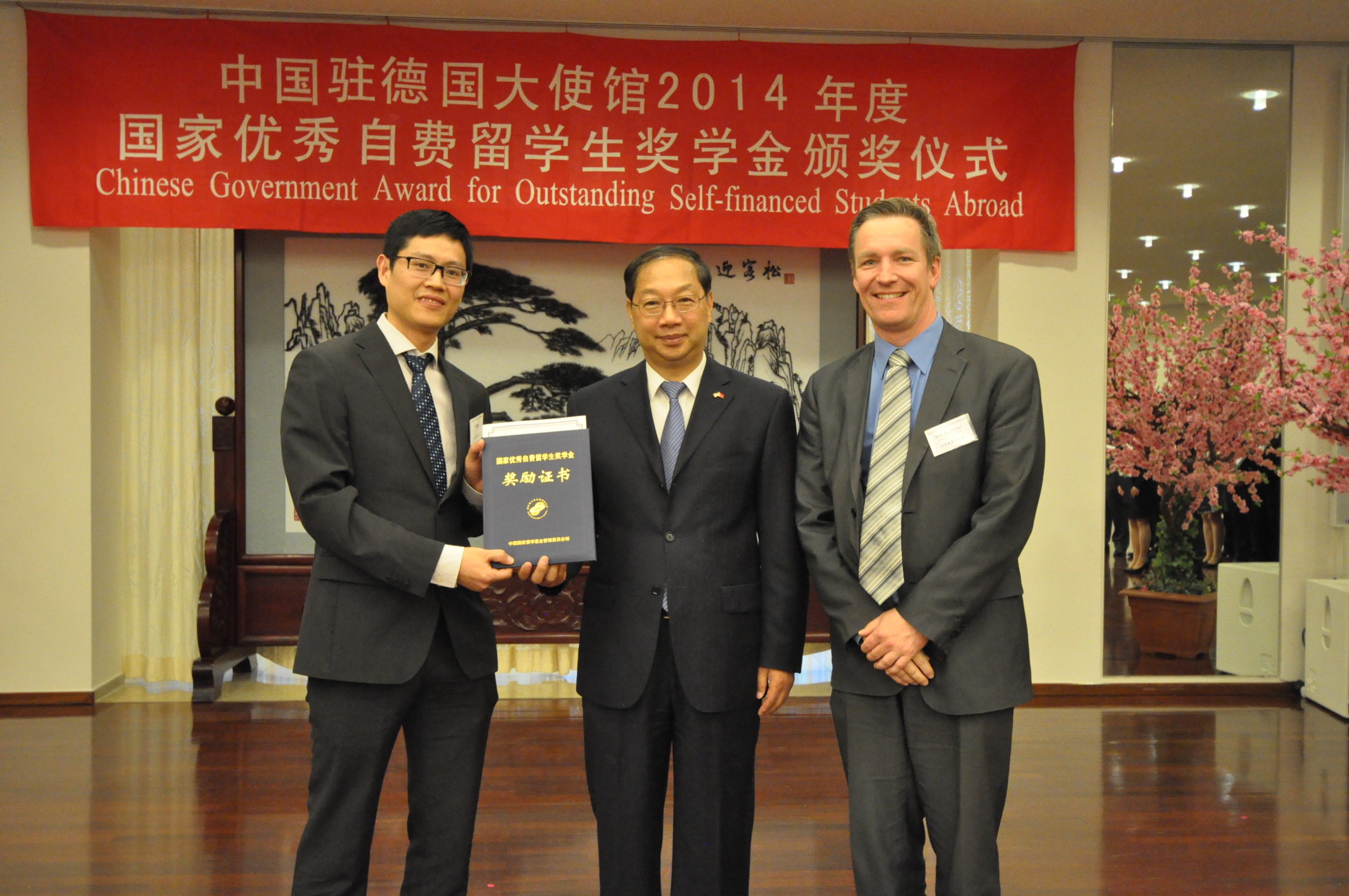 Saturday 09th of May 2015 M.Sc Wenjin Ding was awarded the Chinese Government Award for Outstanding Self-financed Student Award by the Chinese envoy to Germany in the chinese embassy in Berlin. He is one of 24 PhD students in Germany who got honoured by this award. (zoom image...)
April 23rd, 2015
Second Place in Innovation Contest NEULAND 2015
The IMVT reached the second place in the 2015 Innovation Contest category. Congratulations to the project team Dr. habil. Jürgen Brandner and Dr. Berta Spasova. The team led by Dr. habil. Jürgen Brandner already reached a third place in 2014. We wish ongoing success!