Welcome to IMVT
The Institute for Micro Process Engineering (IMVT) was founded in July 2001 with the objective of enhancing the use of novel microstructures in modern process engineering. Foundation of IMVT had been preceded by innovative studies relating to the fabrication of metal microstructured devices and their use in process engineering at the former Central Experimentation Department and before at the Institute for Nuclear Process Technology of Forschungszentrum Karlsruhe. IMVT and its precursor department had been headed by Dr. Klaus Schubert since the late eighties.
Today, IMVT is one of the leading academic research institutions in the field of micro process engineering worldwide. An international team of 64 employees specialized in various disciplines focuses on the construction and fabrication of microstructured devices, on fundamental studies of transport processes and chemical reactions in microstructures, and on the use of prototypes in selected thermal and chemical processes. Apart from research projects financed from basic funds under the Helmholtz programmes, projects funded by third parties are being executed in cooperation with industry and academic research institutions in Germany and abroad.
Democratization of the energy economy
Publication in Nature Communications: "Crowd Oil not Crude Oil"

Illustration of the vision of building integrated and compact fuel synthesis units enabling a democratization of the energy economy.
Together with their Canadian colleagues, employees of IMVT published a thrilling vision in Nature Communications: air conditioning and ventilation systems in office buildings, supermarkets or residential buildings could filter CO2 directly from the circulated air and produce liquid chemical energy carriers locally in compact synthesis units. This synthetic 'crowd oil' from a vast number of renewable oil wells could be used where liquid chemical energy carriers are indispensable, e.g. in aviation or the long-haul transport sector. The proposed concept is interesting not least because a large number of new players could be mobilised for energy revolution.
Link to publication: https://www.nature.com/articles/s41467-019-09685-x
Link to KIT press release: http://www.kit.edu/kit/english/pi_2019_058_crowd-oil-fuels-from-air-conditioning-systems.php
IMVT well represented at IMRET 2018 in Karlsruhe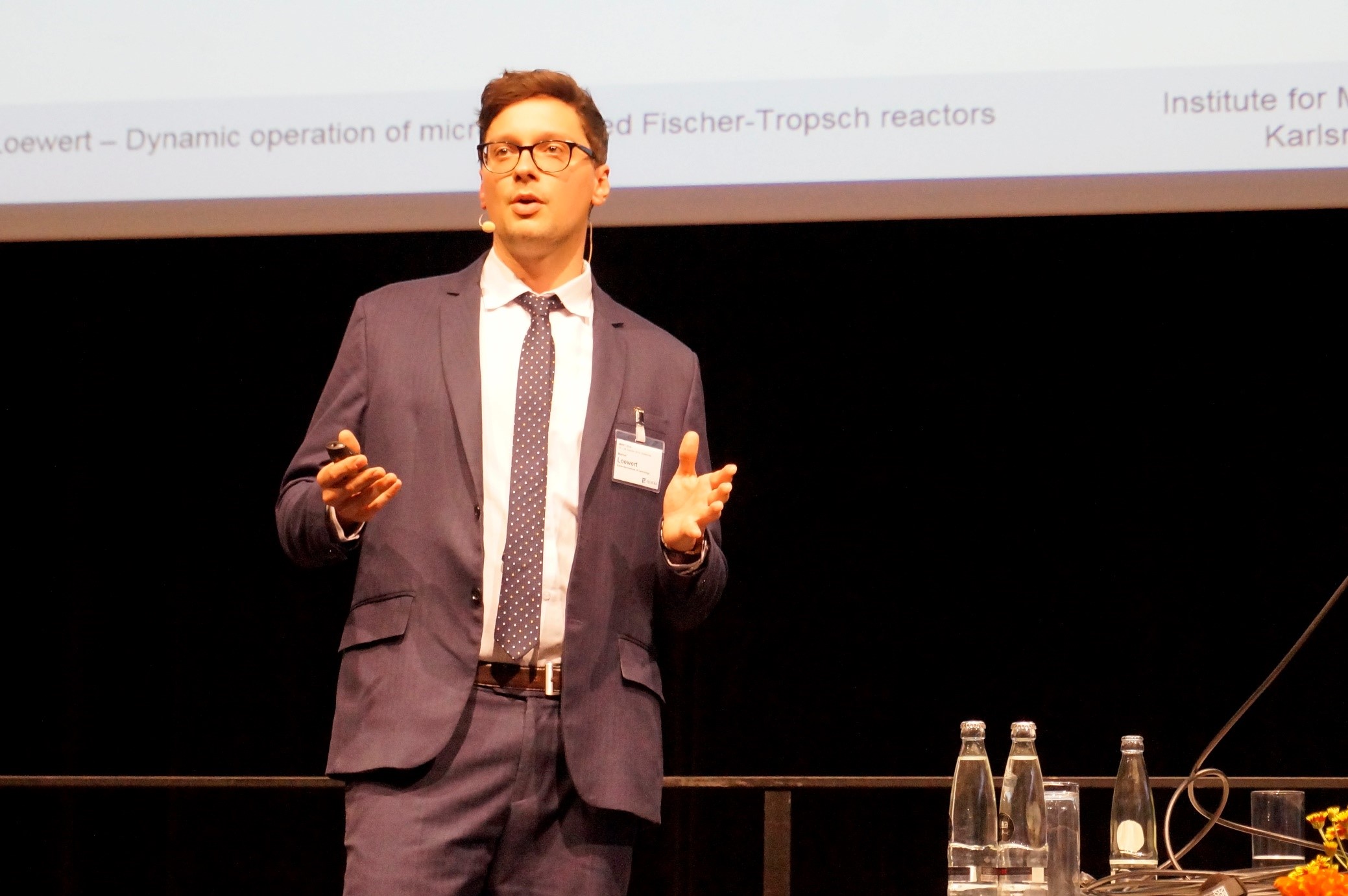 Marcel Loewert on IMRET 2018 presenting his work on dynamically operated micro structured Fischer-Tropsch reactors.
This year's International Conference on Micro Reaction Technology (IMRET) took place from the 21st to 24th of October in the heart of Karlsruhe. For four days 263 participants from 23 countries on 5 continents intensively interchanged recent ideas and developments in the field of micro reaction technology. Over 80 presentations and more than 100 posters covered almost all areas from micro fabrication, to process analytics and sensors, reactions in flow and kinetics, phase separations and finally scale up and industrial applications. Particular interest and vivid discussions evoked the presentations of the numerous industry representatives (30 % of all participants). Companies entering the international market as small start-ups only a few years ago, like for instance IMVT's spinoff INERATEC GmbH reported from their impressive technologies and progresses in implementing them in considerable scale. But also, the well-known global players like BASF, Evonik and Siemens were present on this year's IMRET. For instance, Christoph Kiener from Siemens reported from exciting developments in the field of design and additive manufacturing of highly complex metal structures for high temperature applications and accelerated maintenance / supply of spare parts.
IMVT's employees were present with numerous interesting contributions. Besides five lectures, various posters on current research topics and an exhibition stand representing IMVT's unique know-how in micro fabrication were part of the conference programme. The high quality of IMVT's contributions was acknowledged with a poster award for W. Benzinger and his co-authors for their poster "Tailored 3D Printed Fluid Guiding Elements for Process Intensification".
Not only the perfectly organized lectures and poster sessions but also the delightful conference dinner, organized by the local organizing committee and DECHEMA, the pre-conference workshop on the 21st of October at IMVT and the concluding excursions to BASF in Ludwigshafen, IMM in Mainz and IMVT in Karlsruhe were very well received by the participants.
Concluding, IMRET 2018 was a great success. Hopefully the outcome of the conference will lead to even more fruitful cooperation between research groups all over the world, new approaches in research and development and last but not least many enriching friendships in the field of micro reaction technology.