Welcome to IMVT
The Institute for Micro Process Engineering (IMVT) was founded in July 2001 with the objective of enhancing the use of novel microstructures in modern process engineering. Foundation of IMVT had been preceded by innovative studies relating to the fabrication of metal microstructured devices and their use in process engineering at the former Central Experimentation Department and before at the Institute for Nuclear Process Technology of Forschungszentrum Karlsruhe. IMVT and its precursor department had been headed by Dr. Klaus Schubert since the late eighties.
Today, IMVT is one of the leading academic research institutions in the field of micro process engineering worldwide. An international team of 64 employees specialized in various disciplines focuses on the construction and fabrication of microstructured devices, on fundamental studies of transport processes and chemical reactions in microstructures, and on the use of prototypes in selected thermal and chemical processes. Apart from research projects financed from basic funds under the Helmholtz programmes, projects funded by third parties are being executed in cooperation with industry and academic research institutions in Germany and abroad.
Power-to-X: Carbon-neutral Fuels from Air and Green Power
Government-funded Kopernikus Project P2X: Integrated Container-scale Test Facility Produces Fuels from the Air-captured Carbon Dioxide and Green Power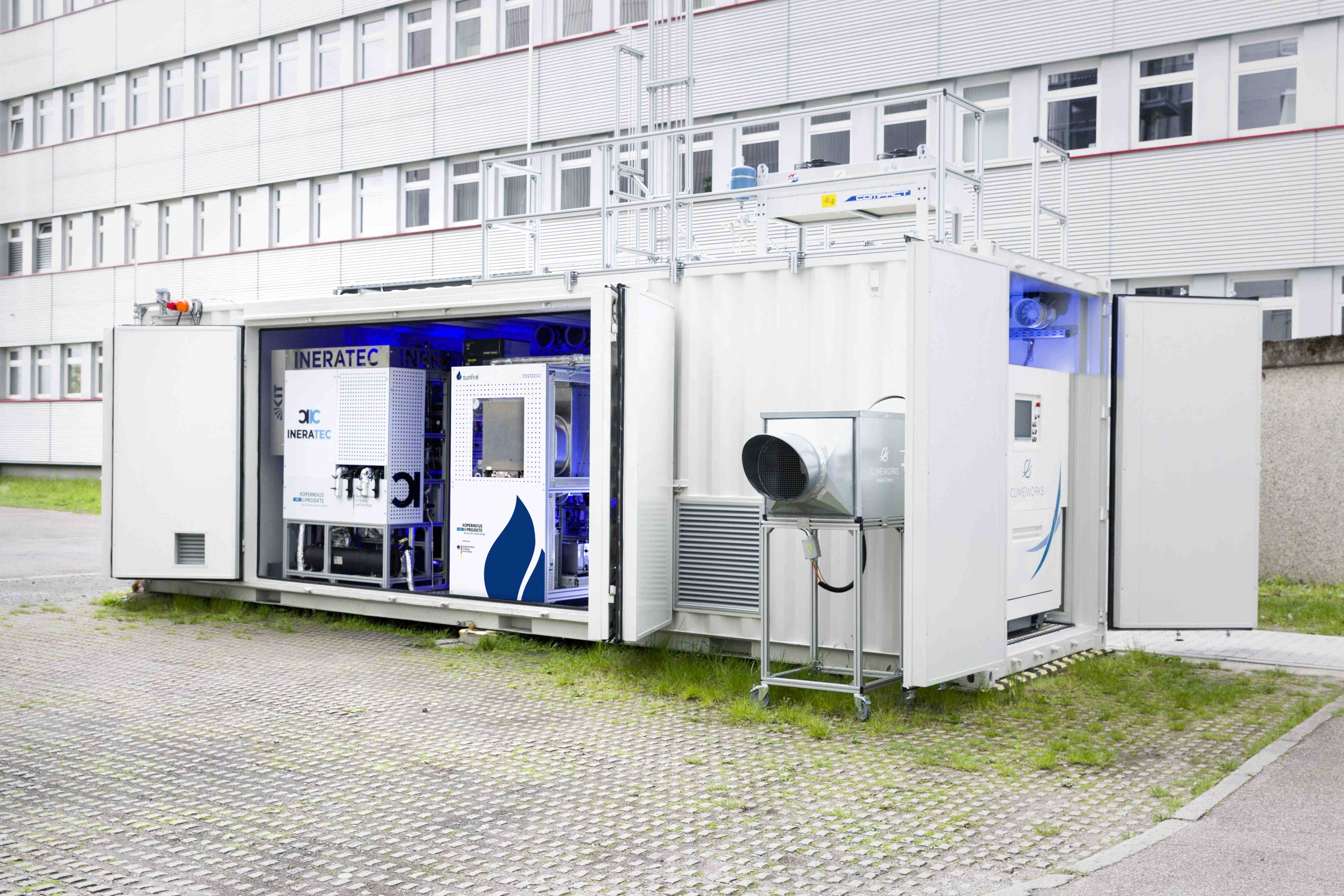 | | | |
| --- | --- | --- |
| The world's first integrated Power-to-Liquid (PtL) test facility to synthesize fuels from the air-captured carbon dioxide. (Photo: P2X project/Patrick Langer, KIT) | | |
Several challenges associated with the energy transition can be managed by coupling the sectors of electric power and mobility. Green power could be stored in the long term, fuels of high energy density could be used in a carbon-neutral way. Sector coupling has now been demonstrated by the partners of the P2X Kopernikus project on the premises of Karlsruhe Institute of Technology (KIT). The first liters of fuel were produced from air-captured carbon dioxide and green power. For the first time, a container-based test facility integrating all four chemical process steps needed was used to implement a continuous process with maximum carbon dioxide utilization and very high energy efficiency [excerpt of the KIT Press Release].
Complete Press Release of the KIT: http://www.kit.edu/kit/english/pi_2019_107_carbon-neutral-fuels-from-air-and-green-power.php
Kopernikus Project P2X: https://www.kopernikus-projekte.de/en/projects/power2x