IMVT
Institute for Micro Process Engineering
KIT Campus North
Hermann-von-Helmholtz-Platz 1
76344 Eggenstein-Leopoldshafen

Seminars
MA Ceyhun Ege Köseoglu:
Investigation of the coating process of a durable, catalytically active coating of Pd/TiO2 on 3D-printed fluid guiding elements made of AISI316L for use in hydrogen peroxide direct synthesis

17.09.2020, 11.00 Uhr
online-IMVT-Seminar
The Institute for Micro Process Engineering (IMVT) was founded in July 2001 with the objective of enhancing the use of novel microstructures in modern process engineering. Foundation of IMVT had been preceded by innovative studies relating to the fabrication of metal microstructured devices and their use in process engineering at the former Central Experimentation Department and before at the Institute for Nuclear Process Technology of Forschungszentrum Karlsruhe. IMVT and its precursor department had been headed by Dr. Klaus Schubert since the late eighties.
Today, IMVT is one of the leading academic research institutions in the field of micro process engineering worldwide. An international team of 64 employees specialized in various disciplines focuses on the construction and fabrication of microstructured devices, on fundamental studies of transport processes and chemical reactions in microstructures, and on the use of prototypes in selected thermal and chemical processes. Apart from research projects financed from basic funds under the Helmholtz programmes, projects funded by third parties are being executed in cooperation with industry and academic research institutions in Germany and abroad.
Will green hydrogen save the climate?
ZDF visits the IMVT
The ZDF team around journalist Eva Schmidt visited the Energy Lab 2.0 at the KIT and talked to IMVT's director Roland Dittmeyer about the e-fuel research facility and green hydrogen as a source of hope in the fight against climate change.
The show "Wasserstoff - Grüner Boom?" of makro with a report on the Energy Lab: https://www.3sat.de/gesellschaft/makro/wasserstoff-gruener-boom-ganze-sendung-100.html
The interview to read: https://www.zdf.de/nachrichten/wirtschaft/wasserstoff-klimawandel-makro-100.html
CO2 neutral eFuels from regenerative power and CO2 from the air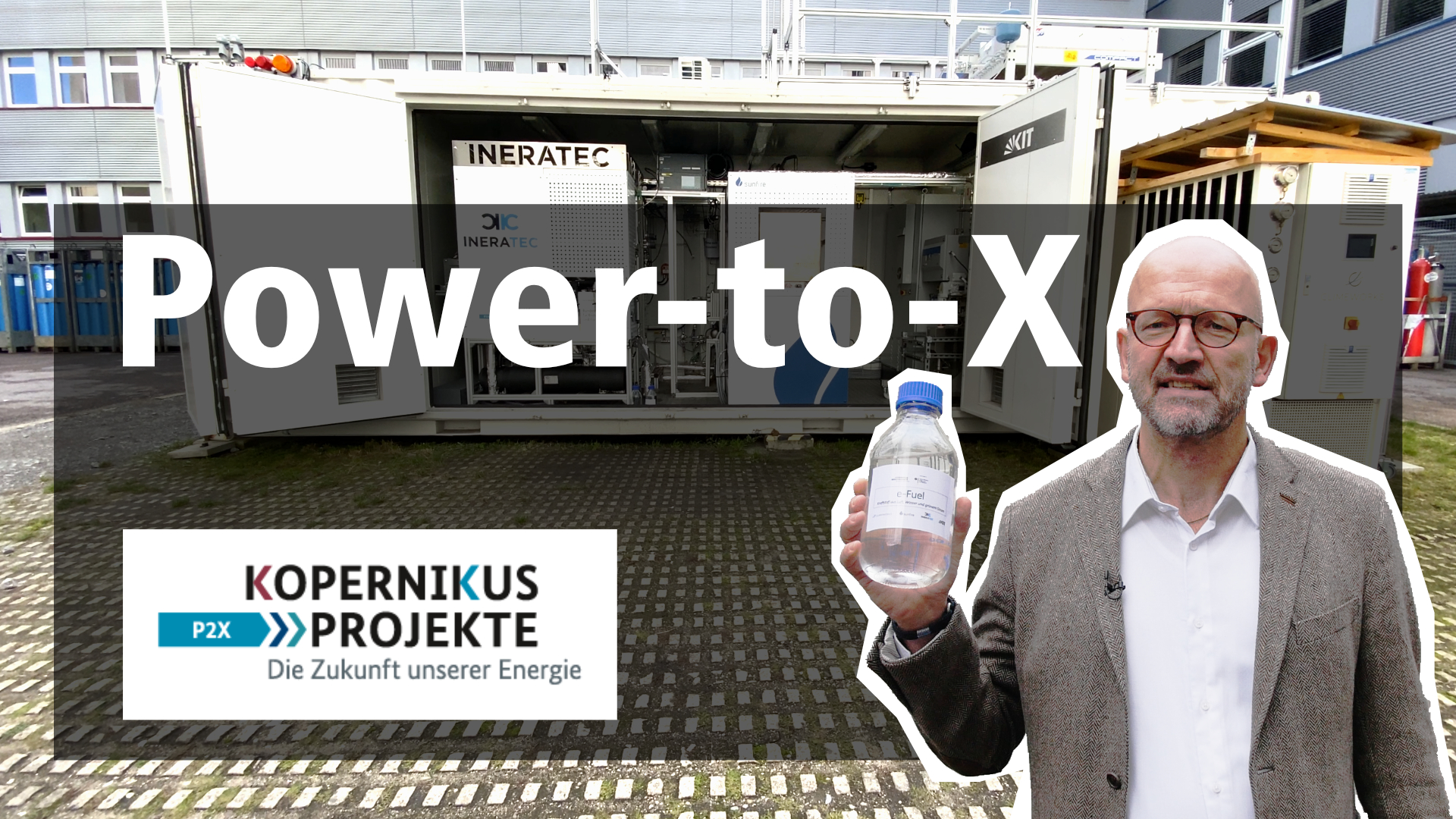 [Note: You will be forwarded to the following website: https://www.youtube.com/watch?v=KOawGXRRJFY]
Deutschlandfunk highlights research on Power-to-X technologies
DLF Science journalist Ralf Krauter and his team visited IMVT last year to talk about Power-to-X, Energy Lab 2.0 and Kopernikus P2X. What came out is an excellent broadcast on the developoment status and perspectivces of Power-to-X technologies for the energy transition. The contribution is also available on the internet:
Power-to-X for the Energy Transition
Youtube video presents Kopernikus project P2X
Science influencer Cedric Engels has visited the IMVT. On his Youtube channel "Doktor Whatson" he explains how fuel can be produced from power and air using the container based plant of the partners Climeworks, Sunfire, INERATEC and IMVT in the Kopernikus project "Power-to-X":
e-Fuels – Kraftstoffe aus dem CO2 der Luft
Sara Claramunt is awarded the Best Poster Award
The annual conference of the Dechema-ProcessNet specialist groups for High-Pressure Process Engineering and Membrane Technology was held from 17.02.2020 to 19.02.2020 in Freising (Germany). Scientists, engineers and company representatives participated in this event and discussed about fundamental questions and technical applications during the parallel sessions of both subjects. Ms. Sara Claramunt won the Best Poster Award for her work in the topic "Steam removal using membrane micro reactors for the concentration of sugar solutions".
Power-to-X: Carbon-neutral Fuels from Air and Green Power
Several challenges associated with the energy transition can be managed by coupling the sectors of electric power and mobility. Green power could be stored in the long term, fuels of high energy density could be used in a carbon-neutral way. Sector coupling has now been demonstrated by the partners of the P2X Kopernikus project on the premises of Karlsruhe Institute of Technology (KIT). The first liters of fuel were produced from air-captured carbon dioxide and green power.
Complete Press Release of the KIT: http://www.kit.edu/kit/english/pi_2019_107_carbon-neutral-fuels-from-air-and-green-power.php