News Archive
New paper and poster award for IMVT researchers
Researchers from the IMVT in collaboration with researchers at IHM and the Max Planck Institute for Plasma Physics have achieved a recognition for their poster "Optical Emission Spectroscopy of Atmospheric CO2 Plasma Sustained with Ultrafast Microwave Pulsations" in the OperCat conference. During this event, they have been rewarded with the Best ePoster Prize (sponsored by Chemistry Europe).
This poster summarizes the findings of the recent paper in ACS Energy Letters "Time-Resolved Optical Emission Spectroscopy Reveals Nonequilibrium Conditions for CO2 Splitting in Atmospheric Plasma Sustained with Ultrafast Microwave Pulsation", where it is shown that ultrafast pulsation of microwaves allows significant improvements of efficiencies during CO2 splitting at atmospheric pressure. Moreover, in this work, time-resolved optical emission spectroscopy allows to identify, for the first time, nonequilibrium at the beginning of the pulse of an atmospheric CO2 microwave plasma.
Sara Claramunt wins Best Presentation Award
For her presentation "Fabrication and characterization of membranes for micro reactors for the intensification of condensation reactions" at the 14th Mediterranean Congress of Chemical Engineering, IMVT PhD student Sara Claramunt receives the Best Presentation Award. The determining factors were the outstanding quality of her presentation and the depiction of her research topic in the form of a graphical abstract during the discussion session. Congratulations, Sara!
1st place in the ideas competition for Tabea Stadler
IMVT PhD student Tabea Stadler reached 1st place in the ideas competition "Energie und Umwelt – meine Idee für morgen" of the Stiftung Energie & Klimaschutz, in which 25 young scientists participated. For her doctoral thesis "Sustainable Aviation Fuels - or: How to enable air traffic with a clear conscience?" she investigates synthesis gas production and power-to-liquid technologies to enable future air travel to be CO2 neutral. We congratulate Tabea on her placement!
Michael Klumpp receives Hanns Hofmann Prize 2020
The Hanns Hofmann Prize 2020 is awarded to IMVT scientist Dr.-Ing. Michael Klumpp for his pioneering work on the development of hierarchically structured materials and their linkage to innovative reactor concepts. DECHEMA's Reaction Engineering section awards the Hanns Hofmann Prize to promote young scientists in the field of chemical reaction engineering. Congratulations!
Podcast about future of mobility
Journalist Philipp Sohmer went in search of an environmentally friendly car and interviewed a wide variety of experts. At IMVT, he talked to Roland Dittmeyer about eFuels as well as other options and took a look at the facilities at the Energy Lab 2.0.
"Fahrverbot - der lange Weg zum umweltfreundlichen Auto"
eFuels: ProSieben Galileo special on November 29, 2020
On Sunday, November 29, 2020, ProSieben will broadcast the Galileo special "Der letzte Tropfen - Wie tickt die Welt, wenn kein Öl mehr fliesst?" at 07:05 pm, which will also present the synthesis of eFuels at IMVT.
Will green hydrogen save the climate?
ZDF visits the IMVT
The ZDF team around journalist Eva Schmidt visited the Energy Lab 2.0 at the KIT and talked to IMVT's director Roland Dittmeyer about the e-fuel research facility and green hydrogen as a source of hope in the fight against climate change.
The show "Wasserstoff - Grüner Boom?" of makro with a report on the Energy Lab and the interview to read.
Environment Minister Franz Untersteller visits the KIT
In order to inform himself about i. a. the research at the Energy Lab 2.0, Franz Untersteller, the Minister of the Environment, Climate and the Energy Industry of Baden-Württemberg, visited the KIT in early August 2020: https://www.kit.edu/kit/english/27434.php
CO2 neutral eFuels from regenerative power and CO2 from the air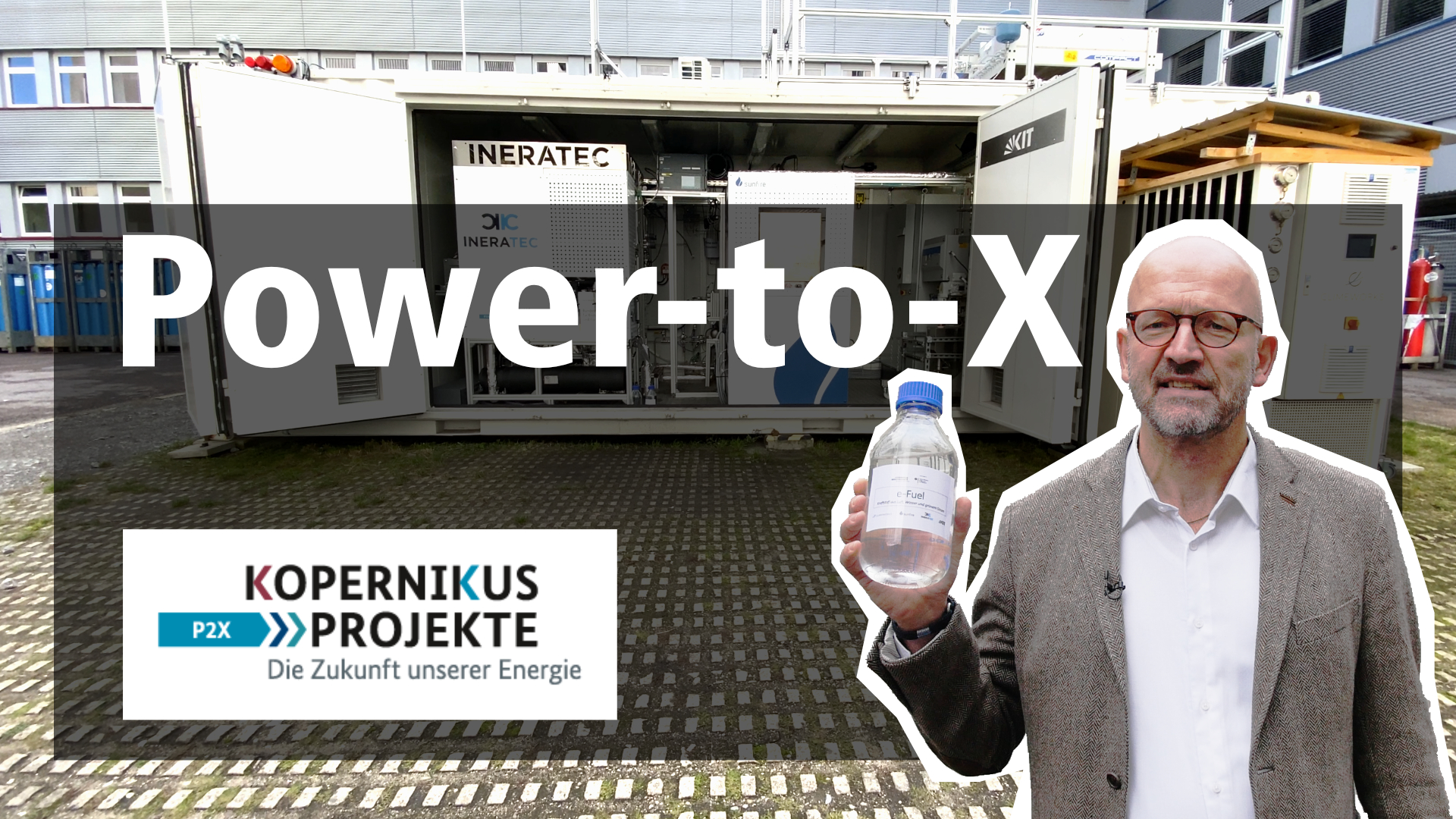 [Note: You will be forwarded to the following website: https://www.youtube.com/watch?v=KOawGXRRJFY]
Deutschlandfunk highlights research on Power-to-X technologies
DLF Science journalist Ralf Krauter and his team visited IMVT last year to talk about Power-to-X, Energy Lab 2.0 and Kopernikus P2X. What came out is an excellent broadcast on the developoment status and perspectivces of Power-to-X technologies for the energy transition. The contribution is also available on the internet:
Power-to-X for the Energy Transition
Youtube video presents Kopernikus project P2X
Science influencer Cedric Engels has visited the IMVT. On his Youtube channel "Doktor Whatson" he explains how fuel can be produced from power and air using the container based plant of the partners Climeworks, Sunfire, INERATEC and IMVT in the Kopernikus project "Power-to-X":
e-Fuels – Kraftstoffe aus dem CO2 der Luft
Sara Claramunt is awarded the Best Poster Award at the Dechema ProcessNet HDVT_MEM20 annual conference
The annual conference of the Dechema-ProcessNet specialist groups for High-Pressure Process Engineering and Membrane Technology was held from 17.02.2020 to 19.02.2020 in Freising (Germany). Scientists, engineers and company representatives participated in this event and discussed about fundamental questions and technical applications during the parallel sessions of both subjects. Ms. Sara Claramunt won the Best Poster Award for her work in the topic "Steam removal using membrane micro reactors for the concentration of sugar solutions".
Power-to-X: Carbon-neutral Fuels from Air and Green Power
Government-funded Kopernikus Project P2X: Integrated Container-scale Test Facility Produces Fuels from the Air-captured Carbon Dioxide and Green Power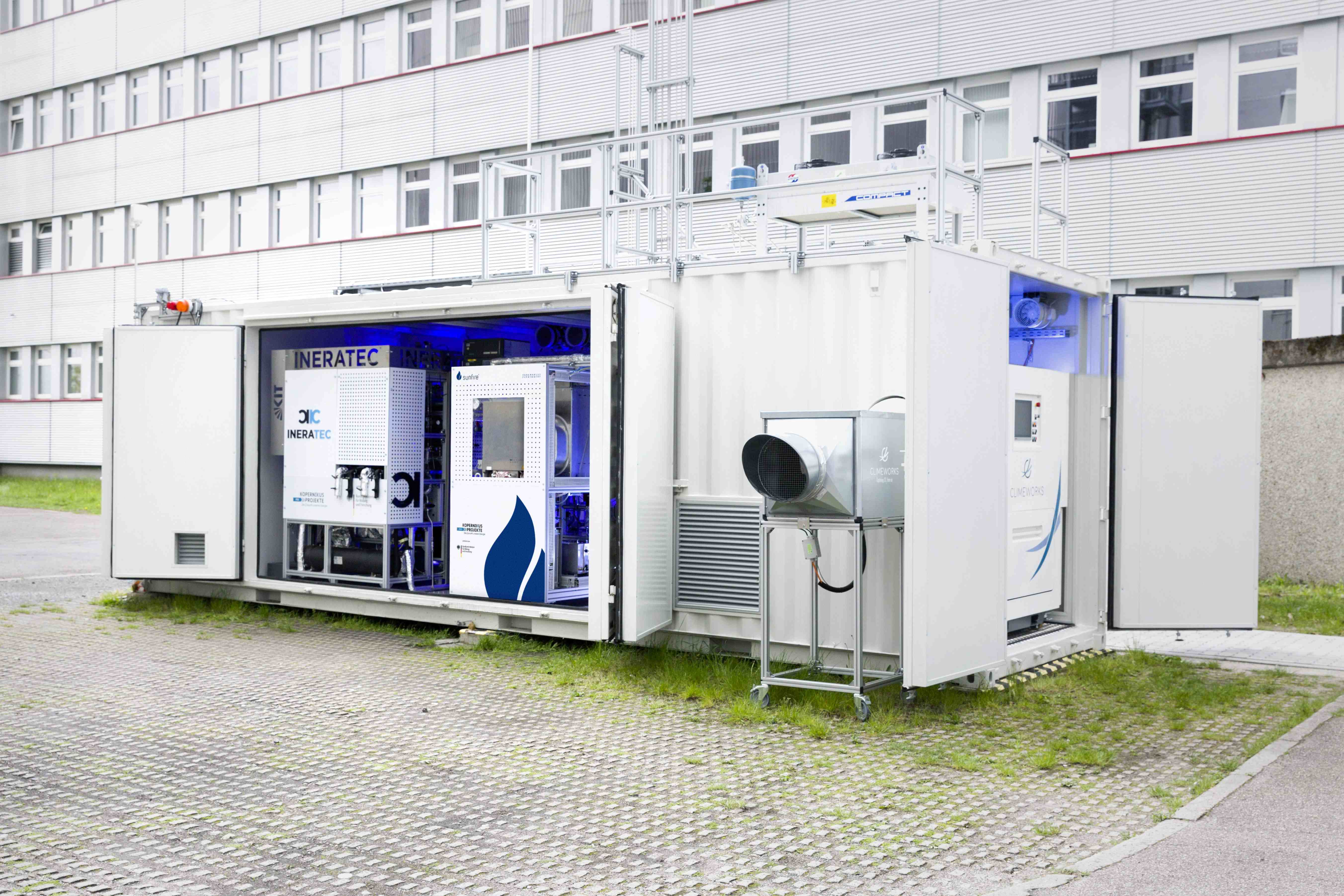 | | | |
| --- | --- | --- |
| The world's first integrated Power-to-Liquid (PtL) test facility to synthesize fuels from the air-captured carbon dioxide. (Photo: P2X project/Patrick Langer, KIT) | | |
Several challenges associated with the energy transition can be managed by coupling the sectors of electric power and mobility. Green power could be stored in the long term, fuels of high energy density could be used in a carbon-neutral way. Sector coupling has now been demonstrated by the partners of the P2X Kopernikus project on the premises of Karlsruhe Institute of Technology (KIT). The first liters of fuel were produced from air-captured carbon dioxide and green power. For the first time, a container-based test facility integrating all four chemical process steps needed was used to implement a continuous process with maximum carbon dioxide utilization and very high energy efficiency [excerpt of the KIT Press Release].
Complete Press Release of the KIT: http://www.kit.edu/kit/english/pi_2019_107_carbon-neutral-fuels-from-air-and-green-power.php
Kopernikus Project P2X: https://www.kopernikus-projekte.de/en/projects/power2x
July 21th, 2019
DFG Research Unit "ProMiSe" enters the second round
On 2 July, the DFG Main Committee approved the continuation of DFG Research Unit 2383 "Assessing and Controlling Dynamic Local Process Conditions in Microreactors via Novel Integrated Microsensors (ProMiSe)" for a further three years. The Research Unit is being launched with four subprojects across locations in Karlsruhe and Freiburg in the second funding phase, which begins on 1 August. The focus is on multiphase systems in microchannels in evaporation, heterogeneous catalysis, photochemistry and nanoparticle synthesis. Microsensors and microoptical analysis systems are used to monitor these processes space- and time-resolved. Furthermore, model-based process control and process guidance shall be demonstrated based on the local data.
Link to the DFG press release: https://www.dfg.de/en/service/press/press_releases/2019/press_release_no_31/index.html
July 18th, 2019
Die 'Crowd Oil'-Vision im Podcast

Dezentral und gekoppelt an Gebäudeinfrastruktur könnten zukünftig klimaneutrale Kraftstoffe aus CO2 hergestellt werden. Durch die dezentrale Struktur und die Kopplung an Gebäude würde eine Vielzahl neuer Akteur*innen für die Energiewende mobilisiert. Der Ertrag der Anlagen würde von den individuellen Akteur*innen oder gemeinschaftlich erwirtschaftet. Roland Dittmeyer, Michael Klumpp & Paul Kant sprechen mit Frank Thelen im Podcast ausführlich über diese technische und gesellschaftliche Vision von 'Crowd Oil'.
Der Podcast ist auf der Website von Frank Thelen unter https://frank.io/de/podcast/e002-co2-klimaanlagen/ verfügbar.
Die Original-Veröffentlichung 'Crowd Oil not Crude Oil' ist unter https://www.nature.com/articles/s41467-019-09685-x verfügbar.
July 11th, 2019
ICCMR-14 Best Oral Presentation Award for PhD Candidate Xiang Zhan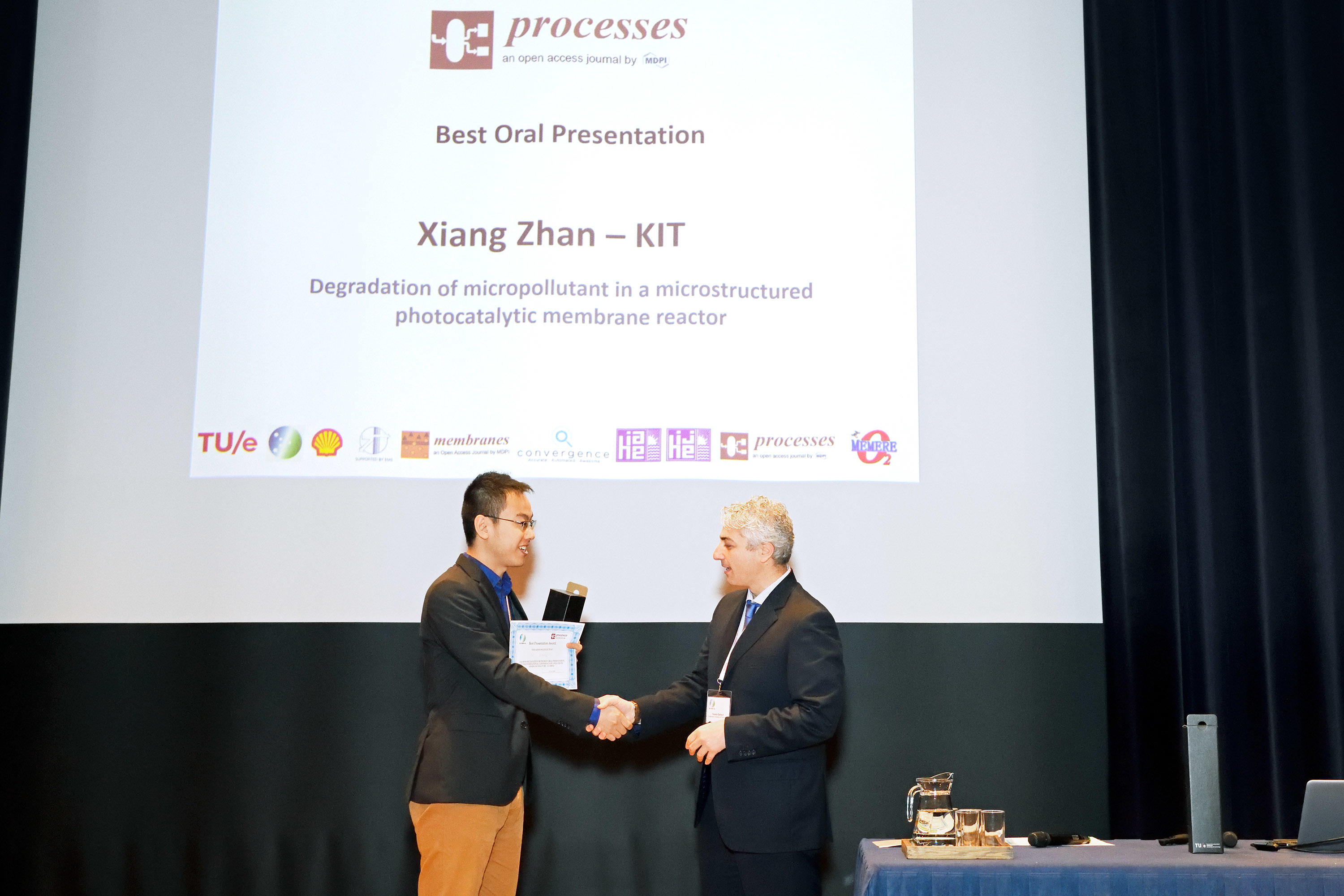 Photo: © Linkedin account ICCMR Eindhoven
For his presentation entitled "Degradation of Micropollutant in a Novel Microstructured Photocatalytic Membrane Reactor" on Wednesday, July 10, PhD candidate Xiang Zhan has won one of the two oral presentation awards of the 14th International Conference on Catalysis in Membrane Reactors taking place from July 8 - 11 in Eindhoven, The Netherlands. Xiang gave a very concise and elaborate presentation of his work with a special focus on process aspects of micropollutant degradation which evidently convinced the jury. A major point in his presentation was the reactor system developed with the help of many colleagues at IMVT. Thanks to everyone who was involved and congratulations to Xiang!
11/07/2019
RD
May 08th, 2019
Democratization of the energy economy
Publication in Nature Communications: "Crowd Oil not Crude Oil"

Illustration of the vision of building integrated and compact fuel synthesis units enabling a democratization of the energy economy.
Together with their Canadian colleagues, employees of IMVT published a thrilling vision in Nature Communications: air conditioning and ventilation systems in office buildings, supermarkets or residential buildings could filter CO2 directly from the circulated air and produce liquid chemical energy carriers locally in compact synthesis units. This synthetic 'crowd oil' from a vast number of renewable oil wells could be used where liquid chemical energy carriers are indispensable, e.g. in aviation or the long-haul transport sector. The proposed concept is interesting not least because a large number of new players could be mobilised for energy revolution.
Link to publication: https://www.nature.com/articles/s41467-019-09685-x

Link to KIT press release: http://www.kit.edu/kit/english/pi_2019_058_crowd-oil-fuels-from-air-conditioning-systems.php

IMVT well represented at IMRET 2018 in Karlsruhe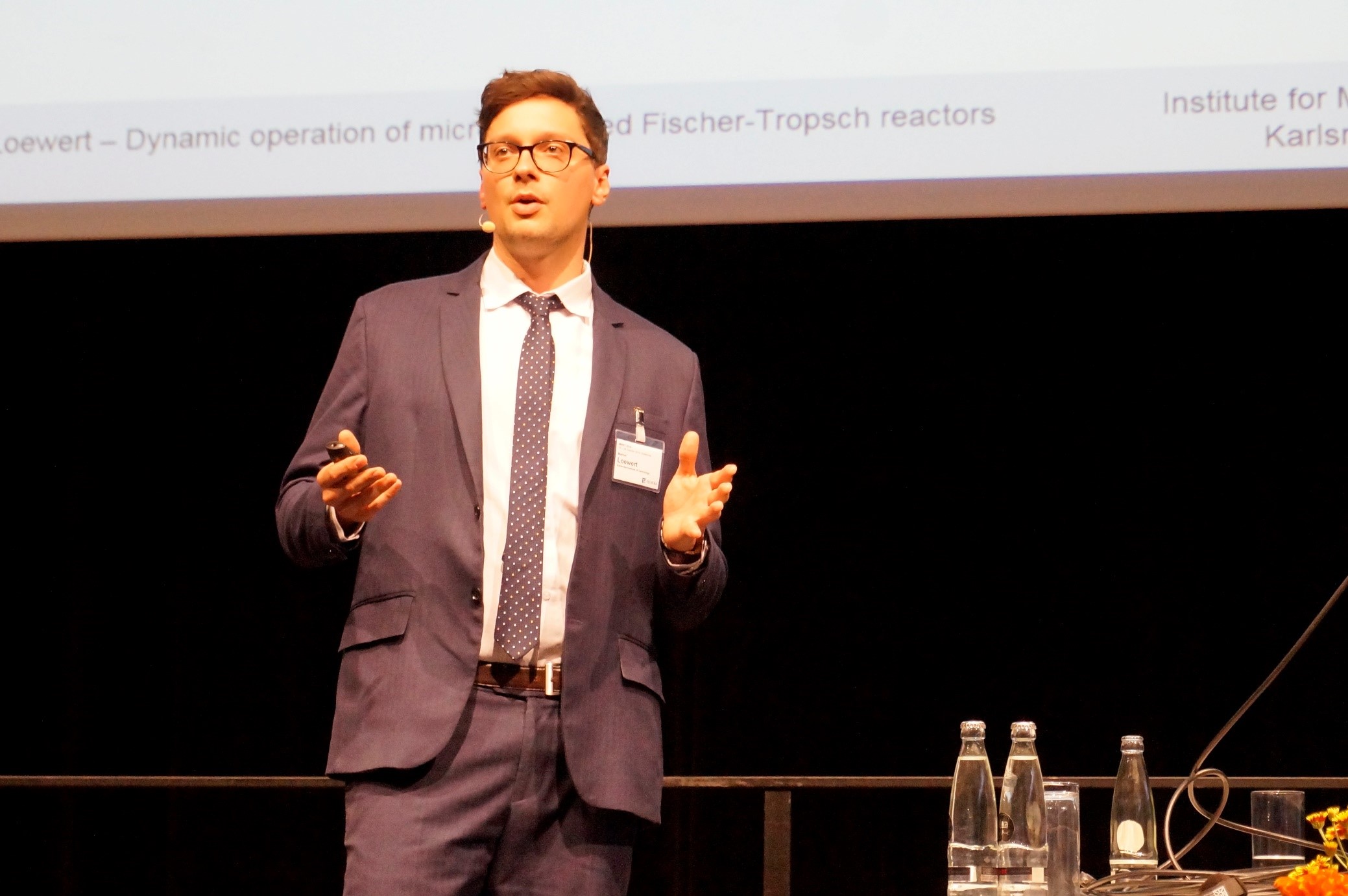 Marcel Loewert on IMRET 2018 presenting his work on dynamically operated micro structured Fischer-Tropsch reactors.
This year's International Conference on Micro Reaction Technology (IMRET) took place from the 21st to 24th of October in the heart of Karlsruhe. For four days 263 participants from 23 countries on 5 continents intensively interchanged recent ideas and developments in the field of micro reaction technology. Over 80 presentations and more than 100 posters covered almost all areas from micro fabrication, to process analytics and sensors, reactions in flow and kinetics, phase separations and finally scale up and industrial applications. Particular interest and vivid discussions evoked the presentations of the numerous industry representatives (30 % of all participants). Companies entering the international market as small start-ups only a few years ago, like for instance IMVT's spinoff INERATEC GmbH reported from their impressive technologies and progresses in implementing them in considerable scale. But also, the well-known global players like BASF, Evonik and Siemens were present on this year's IMRET. For instance, Christoph Kiener from Siemens reported from exciting developments in the field of design and additive manufacturing of highly complex metal structures for high temperature applications and accelerated maintenance / supply of spare parts.
IMVT's employees were present with numerous interesting contributions. Besides five lectures, various posters on current research topics and an exhibition stand representing IMVT's unique know-how in micro fabrication were part of the conference programme. The high quality of IMVT's contributions was acknowledged with a poster award for W. Benzinger and his co-authors for their poster "Tailored 3D Printed Fluid Guiding Elements for Process Intensification".
Not only the perfectly organized lectures and poster sessions but also the delightful conference dinner, organized by the local organizing committee and DECHEMA, the pre-conference workshop on the 21st of October at IMVT and the concluding excursions to BASF in Ludwigshafen, IMM in Mainz and IMVT in Karlsruhe were very well received by the participants.
Concluding, IMRET 2018 was a great success. Hopefully the outcome of the conference will lead to even more fruitful cooperation between research groups all over the world, new approaches in research and development and last but not least many enriching friendships in the field of micro reaction technology.
October 25th, 2018
The colleagues Edgar Hansjosten, Achim Wenka, Andreas Hensel, Walther Benzinger, Michael Klumpp and Roland Dittmeyer have won one of three poster prizes at the International Conference on Micro Reaction Technology (IMRET) 2018 (21st - 24th of October, Karlsruhe) with more than 260 participants and over 100 posters. Congratulations!
Topic of the poster was "Tailored 3D Printed Fluid Guiding Elements for Process Intensification".
Link zur Dechema-Veranstaltung
Publication of IMVT researcher Dr. Alexander Navarrete awarded!
Energy Technology (Wiley) has selected the article "Harvesting Renewable Energy for Carbon Dioxide Catalysis" as one of the Best of 2017! The paper goes beyond a mere review of the technological advances in the transformation of carbon dioxide by means of Renewable Energy. It delves into the fundamentals of microwaves, plasmas, and light as sources of energy for catalytic transformations of CO2. Moreover, the authors propose a new kind of reaction system, an energy‐harvesting device, as a way to redesign the current catalytic processes into more efficient, flexible and scalable ones.
FREE TO DOWNLOAD UNTIL THE END OF 2018
https://onlinelibrary.wiley.com/doi/10.1002/ente.201600609
September 12th, 2018
IMVT Spin-Off INERATEC wins the "Deutsche Gründerpreis 2018" in the category Start-Ups
On September 11, 2018 this years winners of the "Deutsche Gründerpreis" were announced in a celebration in Berlin. The German TV Station ZDF broadcasted the event live at 20:00 (https://amp.zdf.de/nachrichten/heute/deutscher-gruenderpreis-2018-100.html). Our Spin-Off INERATEC GmbH was the winner in the category Start-Ups. In addition at 22:45 the decorated companies and founders were presented in a detailed feature report (https://www.zdf.de/verbraucher/wiso/startup-so-geht-erfolg-gruender-und-ihre-ideen-100.html). IMVT alumni Dr. Paolo Piermartini and Dr. Tim Böltken as well as their co-founder Philipp Engelkamp all had their say there and could explain our common vision of synthetic fuels from renewable power and carbon dioxide made in decentralized container-based plants very catchpenny. Moreover, in an interview broadcasted in ZDF Morgenmagazin on September 12, Dr. Böltken also talked about the development of the technology at KIT (https://www.zdf.de/nachrichten/zdf-morgenmagazin/gruenderpreisgewinner-klarer-diesel-100.html). With this the success story INERATEC reaches another top, on which the Institute for Micro Process Engineering sincerely congratulates the founders. WOW!!
R. Dittmeyer
12/9/2018
October 29th, 2016
Chenghao Sun Is Awarded the GCCCD® Best Poster Award (1st Prize
The 28th annual conference of the Gesellschaft Chinesischer Chemiker und Chemieingenieure in der Bundesrepublik Deutschland e.V. (GCCCD®) was held from October 28th to 29th, 2016 in Munich with the theme Chemistry and Chemical Engineering for Sustainable Development. More than 150 scientists, engineers and company representatives participated in this annual conference. Mr. Chenghao Sun won the GCCCD® Best Poster Award (1st Prize) with GtL process integration and intensification in microchannel reactors.
August 25th, 2016
Adsorption Device Based on a Langtate Crystal Microbalance for High Temperature High Pressure Gas Adsorption in Zeolite H-ZSM-5
Juli 1st, 2016
Tim Böltken Is Presented the Peter-und-Luise Hager Award 2016
During the course of the KIT Department of Chemical and Process Engineering's faculty celebration on July 1st, 2016, the 3,000€-endowed Peter-und-Luise Hager Award for Energy and Environmental Technology was presented for the first time. Dr.-Ing. Tim Böltken received the price for his extraordinary dissertation about the development of a new modular reactor system with integrated membranes for the decentral production of hydrogen from methane written at the IMVT.
Dr. Böltken finished his dissertation in 2015. From 2014 to 2015, he was a project leader in the BASF subsidiary hte – the high throughput experimentation company. Since 2015, he is founder and CEO of the INERATEC GmbH, a KIT spin-off in the business of innovative and compact chemical reactors for the decentral production of liquid and solid carbon hydrates from fossile and renewable gases.
January 26th, 2016
DFG Research Group ProMiSe Started
The DFG research group 2838 ProMiSe focuses on the Assessing and Controlling Dynamic Local Process Conditions in Microreactors via Novel Integrated Microsensors. The group consists of researches from the Karlsruhe Institute of Technology and the University of Freiburg. In the course of four cross-location subprojects the scientists develop electronical and optical microsensors and measuring techniques to understand chemical and physical processes in micostructured apparatuses better and to improve the cost and energy efficiency of the latter. The main spokesperson of the group is Prof. Dr.-Ing. Roland Dittmeyer (IMVT, KIT) while the deputy spokesperson is Prof. Dr.-Ing. Peter Woias (IMTEK, University of Freiburg).
May 9th, 2015
Chinese Government Award for Outstanding Self-financed Student Award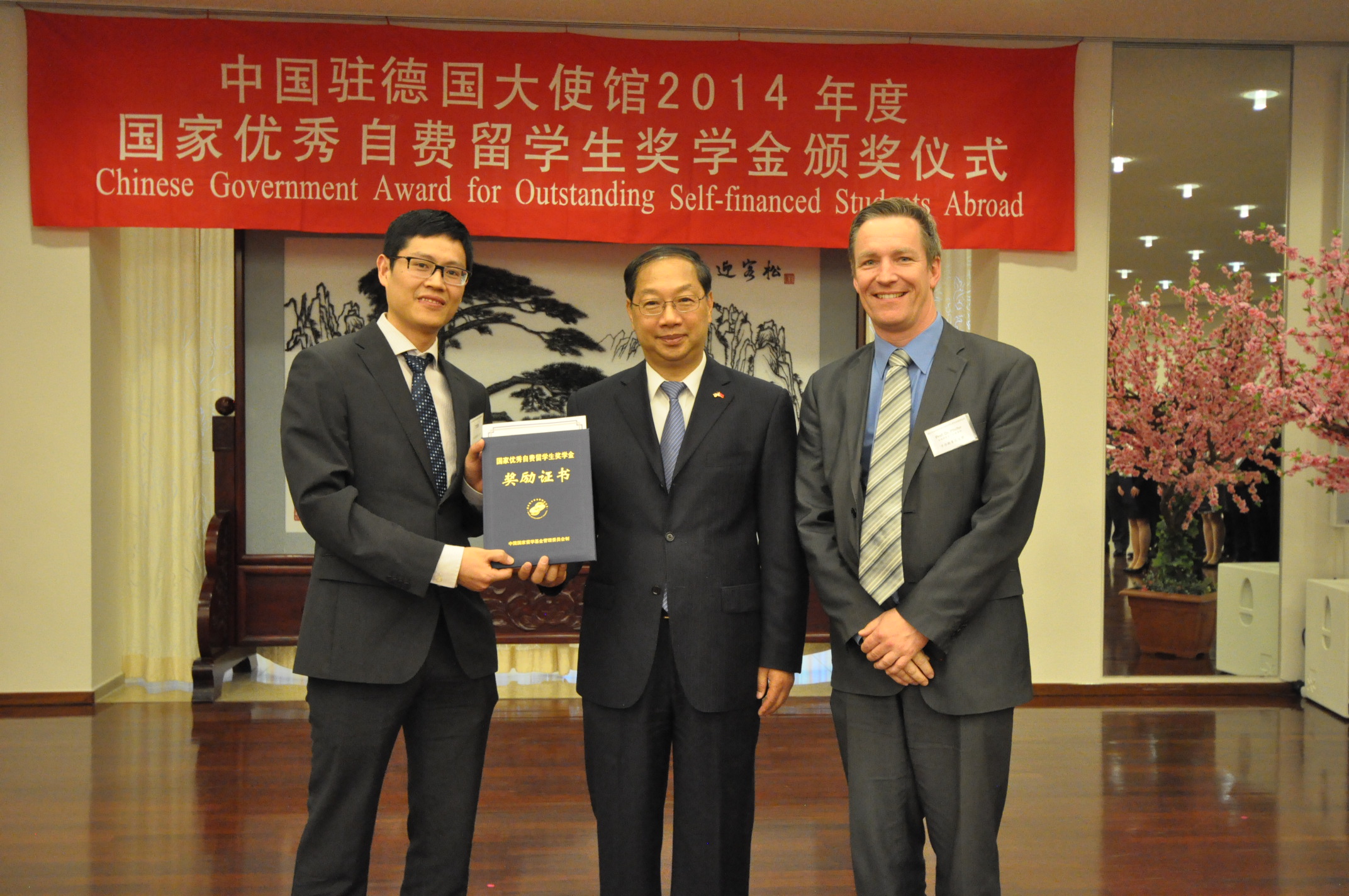 Saturday 09th of May 2015 M.Sc Wenjin Ding was awarded the Chinese Government Award for Outstanding Self-financed Student Award by the Chinese envoy to Germany in the chinese embassy in Berlin. He is one of 24 PhD students in Germany who got honoured by this award. (zoom image...)
April 23rd, 2015
Second Place in Innovation Contest NEULAND 2015
The IMVT reached the second place in the 2015 Innovation Contest category. Congratulations to the project team Dr. habil. Jürgen Brandner and Dr. Berta Spasova. The team led by Dr. habil. Jürgen Brandner already reached a third place in 2014. We wish ongoing success!